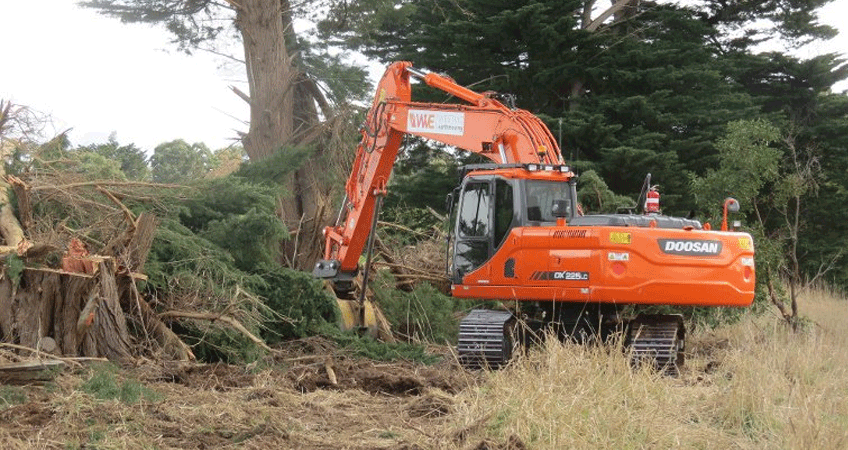 When you hear the words 'block clearing', you should try to associate it with the removal of all vegetation from your yard in order to create a blank canvas.  This means that all trees, stumps, weeds, vegetation etc., will be removed from your land so that something else can be placed there.
Land clearing and grubbing is the process of preparing a parcel of land for construction by removing all vegetation and landscape materials. If there are any existing buildings, they will need to be demolished and removed, after which time the land can be cleared.
clearing techniques include:
Grubbing and Dozing
When using this style of land clearing, you can cover a lot of land at a fast pace. This quick pace, however, leaves behind large holes, which creates a rough, messy finish. This finish may be an acceptable finished product on some occasions.
Burning
With a prescribed burn, you will be able to clear your land quickly.
Hand Clearing
While hand clearing may be the least invasive way of clearing your land, it will also be the most time-consuming. The use of handheld options is very selective and deliberate. This is a good option if you are planning to thin a small area to come in and build a house or other structure, and want to create a safe buffer for fire dangers.
Mulching
The use of a mulcher is an excellent alternative to grubbing and burning. With mulching, whether it is a disc or a drum mulcher, it can selectively cut and process vegetation efficiently.
There are many good reasons to keep vacant land clear. If you are looking to sell the block of land, clearing block of land will add street appeal. When the land is better presented, it will attract greater interest from owner builders and developers as they will have a better understanding of what they are buying. Land that has not been cleared may have time and cost implications in clearing as well as site preparations which need to be considered.
One of the most important reasons why clearing land is needed is because it makes the land being cleared safer. Often before land clearing, the land is filled with dead trees, rotting wood, and any type of garbage that may be found on the property. Until land clearing is done, the land will be full of hazards and dangers to yourself, people who find themselves on the property, the property itself and neighboring ones.
Here are the Benefits of Clearing Land:
Protects the Land – After clearing land, you can mulch but even if you do not, the top layer will naturally form some mulch on the topsoil giving nutrients to the ground below and reducing undesired growth of weeds.
Presentation – As we mentioned earlier, a well-presented piece of land will have appeal to potential buyers whether you are intending to sell or not.
Make the land Useful – If the piece of land is not being used, you can potentially gain some revenue from leasing it out. Depending on the location of your land, there are often different opportunities to lease out short term or long. There may be a business nearby wanting to store items or even vehicles where all they need is vacant land.
Land clearing on a small scale, backyards and gardening have less effect than agricultural or construction-related land clearing. To prevent a negative impact on the environment, preventing land clearing is the best solution. However, that isn't possible or practical, so land clearing professionals are charged with clearing land in a way that reduces the environmental effects.
Because it involves the removal of things that grow in nature, environmentalists may be quick to pass judgment on land clearing. But this service can be beneficial to environmental sustainability.
Lots that have been neglected can accumulate weeds, bushes, and other plants that make it hard for vegetation to flourish. Clearing out dead or overgrown vegetation can also give other plants a chance to thrive and receive direct sunlight.