NORTH CAROLINA — Legalizing medical marijuana has been an ongoing debate in the Tar Heel state, but a recent poll shows an overwhelming majority of North Carolinians are in favor. 
What You Need To Know
The majority of North Carolinians support medical marijuana despite it currently being illegal, according to an exclusive Spectrum News/IPSOS poll
One of the largest support groups is veterans
Medical marijuana can help with anxiety, depression, PTSD, opioid addiction and more
The Senate is currently discussing a bill that would legalize medical marijuana for certain groups of people
One of the largest groups supporting medical marijuana in North Carolina are veterans. They say it could provide major health benefits— if it were only legal to use.
Maxwell Oglesby owns a CBD dispensary, and he's trying to help veterans with hemp products while working within legal restrictions.
Oglesby has been passionate about his work with CBD since he was just 14 years old. Now he's the co-owner of Above the Roots, which specializes in selling CBD and Delta-8 products.
These products are not allowed to have a high concentration of THC in them, which is the part of cannabis that makes you high. While Oglesby does what he can to help people under strict legal guidelines, he's also a big advocate for legalizing medical marijuana and the health benefits it could bring.
"It's wonderful," Oglesby said. "I don't know why science isn't proving it here in North Carolina to the people who are sitting in the right seats. But eventually it'll get there."
It's also a personal issue for Oglesby.
"What really hit home," Oglesby said. "Me, my older brother, as well as one of my younger brothers, were in the military. He passed away in 2014 unfortunately," Oglesby said of his brother. "Not due to anything in the military, but cancer."
He says when his brother was going through chemo, he kept hearing recommendations for cannabis oil. But with medical marijuana still illegal, his brother couldn't get it. Oglesby believes it would have really helped, and that's why he opened this store. He says many state lawmakers who are against it may not have had such a personal encounter.
"You've got cancer patients coming from all over the world to North Carolina to receive some type of care for chemo," Oglesby said. "And the moment they walk outside to ingest or smoke anything with cannabis they become a criminal. To me that's wrong."
Oglesby is just one of many people in North Carolina who support medical marijuana. In an exclusive Spectrum News/IPSOS poll, 72% of North Carolina registered voters are in support of legalizing medical marijuana while 21% were against it.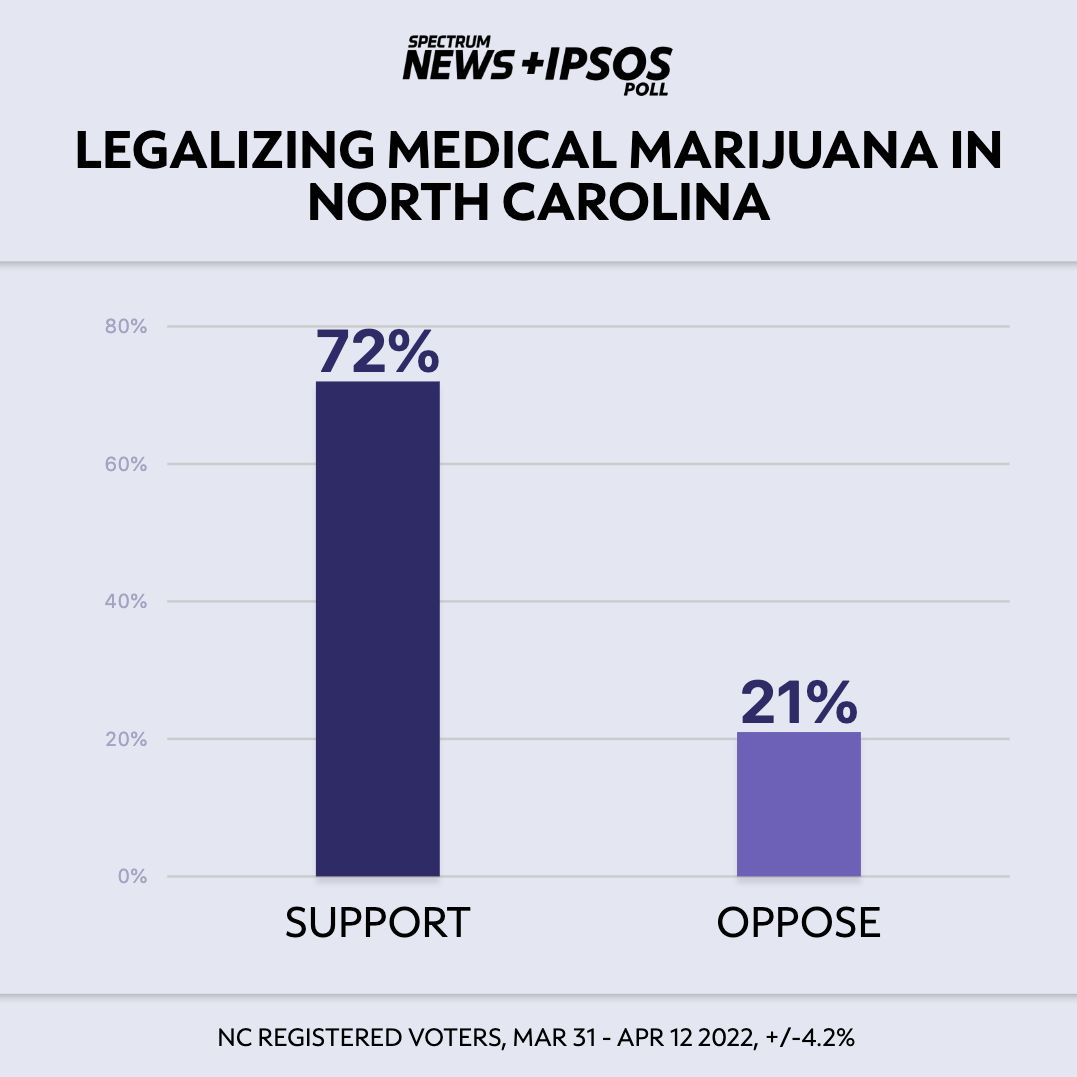 Oglesby says with so much military in North Carolina, veterans specifically are going to play a big role in changing the law. 
"Who in their right mind would stand in the way of veterans getting some type of treatment," Oglesby said.
It could help them with anxiety, depression, PTSD, and opioid addiction among other things.
"They put their life on the line for us," Oglesby said. "I don't understand why when they get back and they need help from us, we can't offer that to them. Here we fallen short on that."
The current bill being discussed by the Senate would only legalize medical marijuana for certain groups of people, but does not include those suffering from chronic pain.
Oglesby says he partially agrees that something is better than nothing, but there are always more people who could benefit. He would rather get the laws right the first time so they don't have to go back and fight to change it once again.
https://spectrumlocalnews.com/nc/charlotte/news/2022/04/25/medical-marijuana